Via "File" -> " Items" you reach the item list.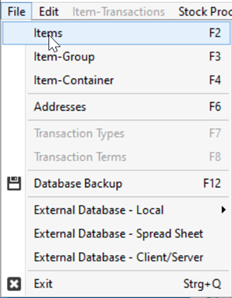 In the item management, the data of all your items and associated label layouts can be stored and managed under item numbers. Furthermore, not only individual labels can be printed from the item management but several labels can be printed as batch.
Item No.
Enter here yoIur already created item number or the new item number to be created to search for the label in the list. Immediately after entering the first digit, the light bar in the list jumps to the first label that matches the already entered labels.
Reference: Structure of the item number
If you leave the input field after entering a valid item number with the [TAB] key, the register automatically jumps to the next page for editing the label data
If you want to create a new label number, press the "New" button.
Here you can edit the found label.
Item Group
Via this selection field you can filter an extensive label list according to item groups.
Reference: Create item groups
To add a new product to the list, enter the item number of the product in the upper bar. Then confirm your entry with
and the item will be created in the list..
Alternatively, you can have the software generate your article numbers. To do this, first select the appropriate item group for your product. Then click on the symbol
and your article number will be generated automatically.
Function keys
Use the navigation keys to move to the first, previous, next or last record.

Use the "List" shift key to switch between the label list and the "Edit" page.

With this button you create a new item. The new article number to be created must first be entered in the entry field " Item No.".

Save the item. This button is only activated when the record has been edited.

Cancel data set processing. All changes to the data set are undone.

Delete the data record after a security prompt.

Switch filter on/off. This allows you to filter the data records according to a previously selected product group.

Saves all data fields of a data set in the buffer.

Entire data record contents can be copied with this.

Once you have created a new record, you can use it to insert all data fields of another item in a transaction.

This function is particularly useful if entire items are to be copied.

Prints the label of the current item.

After entering the appropriate item group, you can use this button to automatically generate an item number..

Calls the item management help.

Ends item management
Item list (table display)
A double-click on a record in the list automatically opens the selected record for editing.