Enter the text here.
On this tab page you can edit the label data, enter additional texts in the memo field and assign an image to the item to make it easier to identify.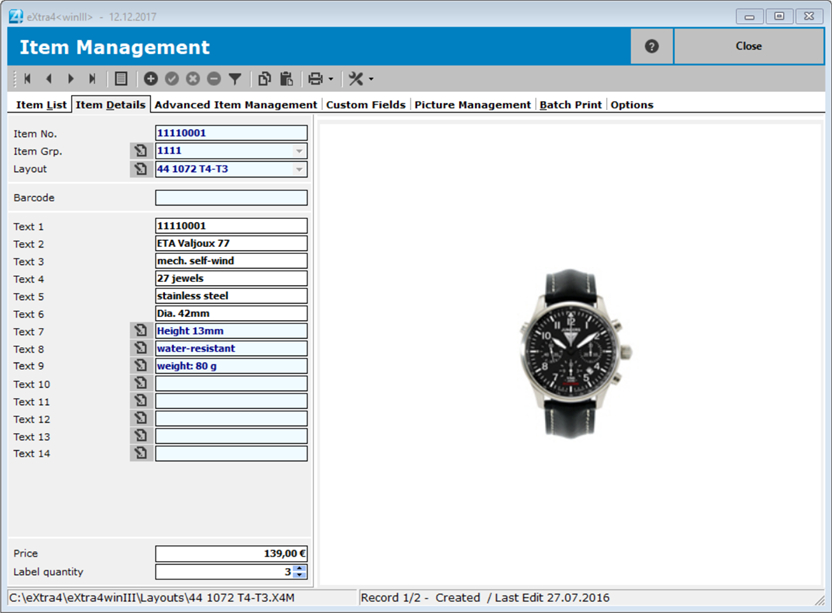 Item no.
The item number shown here cannot be changed. If a different item number is to be assigned to an item, the item must first be deleted and then recreated.
Item Group
The item can be assigned to a previously created item group. Item groups can be used to filter the item stock and make it easier to find the item again.
Item texts/price
These fields store the texts that will be printed on the label.
Function is available from "Advanced-Edition".
The field names in front of the input fields can be preset in the basic settings (menu Configure) (function is available from Edition "Advanced").
Number of labels
The quantity entered here is used as the quantity default for serial printing of labels.
Label No.
Here you can assign a specific label layout to the item. The pull-down menu provides you with the label layouts that you have assigned as your most important labels to the quick start buttons below the application menu..
Remarks (Memo field)
Here you can enter any comments you like about the item..
Insert image
Below the memo field you will find a field to assign an image to the item. With a click on the right mouse button you can insert an image from a directory or from the clipboard.
It is also possible to delete the image in this way.
Delete layout No.
If you click in the Layout No. field and press the DEL key, the assigned layout is removed.